Rx Pad
Improving the Health of Your Clinical Practice
How to become certified in hyperbaric medicine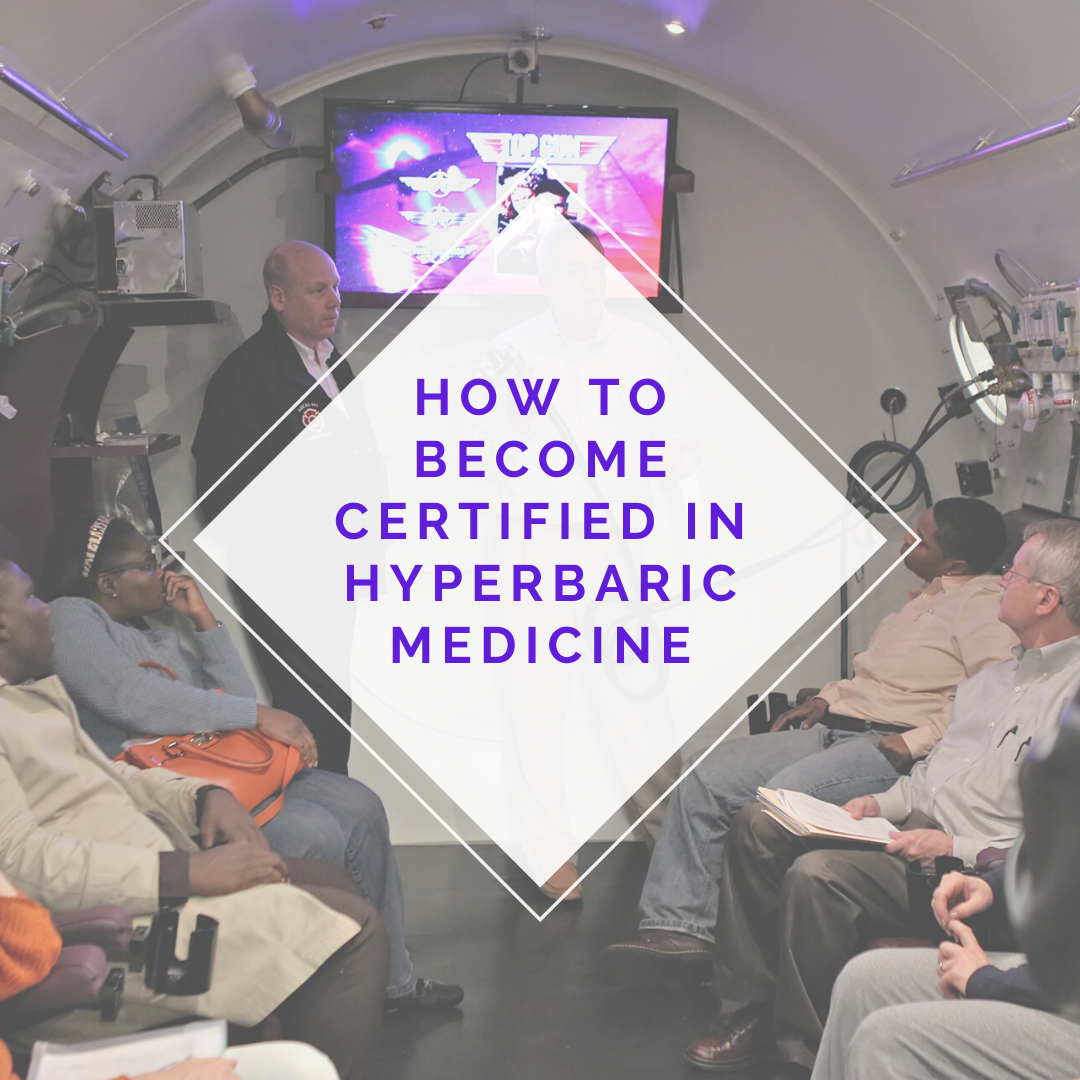 We get a lot of calls each week about how to become certified in Hyperbaric Medicine. Below are steps you could follow if you are interested in seeking privileges to practice hyperbaric medicine at your facility.
Step 1
Attend a hyperbaric basic training, Introduction to Hyperbaric Medicine - a 40-hour course. This course provides you with basic training in hyperbaric medicine. You are not "certified" at the end of the basic training course, you will receive a certificate of course completion.
The hyperbaric basic-training course that we provide at Wound Care Education Partners meets CMS requirements for physician supervision and billing.
To pursue board certification or a certificate of added qualification, please read on for more details.
Our in-person Introduction to Hyperbaric Medicine basic training course is approved by the Undersea and Hyperbaric Medical Society (UHMS).
Step 2 (Physicians)
Privileges to practice hyperbaric medicine are granted by your facility. Check with your facility's requirements to earn privileges.
Below are options for physicians to either become boarded in UHM or pursue added qualification.
Physician Board Certification in Undersea and Hyperbaric Medicine (UHM) https://www.uhms.org/education/credentialing/board-certification-physicians.html

Physicians can obtain board certification in Undersea and Hyperbaric Medicine through the American Board of Emergency Medicine (ABEM) and the American Board of Preventive Medicine (ABPM), with a current certification from one of the 24 primary member boards of the American Board of Medical Specialties (ABMS). Physicians must submit an application to the board through which they are certified. Physicians certified by an ABMS member board other than ABEM and ABPM and who fulfill the eligibility criteria must apply to ABPM. Upon successful completion of the examination, certification is awarded by the board through which the physician submitted the application. Find more details on the UHMS website here https://uhms.org/education/credentialing/board-certification-physicians.html
PATH - Program for Advanced Training in Hyperbaric Medicine. The UHMS PATH program is open to MD, DO, NP and PA candidates. https://www.courses-uhms.org/courses/uhms-path.html#who-can-participate-in-the-uhms-path
Physician Certification in Hyperbaric Medicine is offered by the ABWH. https://abwh.net/get-certified/physician-certification-hyperbaric-medicine/
Step 2 (Nurses and Allied Health)
Decide if you want to pursue CHT/CHRN or CHS/CHWS
Visit the ABWH website to read how to become CHS or CHWS
Visit the NBDHMD website to read how to become a CHT or CHRN
Enroll in an Introduction to Hyperbaric Medicine basic training course. CLICK HERE to see the list of upcoming courses. IMPORTANT NOTE: You are

not

"certified" at the end of this or any basic training course, you will receive a certificate of course completion.
Questions about the added qualification? Contact the American Board of Wound Healing (ABWH) https://abwh.net
Questions about Introduction to Hyperbaric Medicine basic training course, contact us at

This email address is being protected from spambots. You need JavaScript enabled to view it.
Additional Notes:
The UHMS recognizes CHS, CHWS (ABWH) - you can find the UHMS position statement here.
The American Board of Wound Healing (ABWH) offers added qualifications similar to those offered by the National Board of Diving and Hyperbaric Medical Technology (NBDHMT).
An "added qualification" is not an entry-level qualification, rather an additional certification beyond the applicant's qualifying profession.
Step 3 - Take Action Now!
If you are ready to take action now, register for an Introduction to Hyperbaric Medicine 40-hour basic training course. Learn more here http://bit.ly/WCEP_IHM
Find an upcoming course on our Upcoming Courses page here http://bit.ly/WCEPUpcomingCourses
Enter your name and email below to receive access to our most up-to-date list of courses taking place each month.
Stay Informed
When you subscribe to the blog, we will send you an e-mail when there are new updates on the site so you wouldn't miss them.
Comments
2 I trained as a Special forces dive Med tech and am now a ER physician I'm looking for training and possible work in this field, any suggestions
Thanks
I trained as a Special forces dive Med tech and am now a ER physician I'm looking for training and possible work in this field, any suggestions Thanks